Free Woodworking Plans
from Woodworking Plans 4 Free.com
Featured Free Woodworking Plans
Stackable Wall Unit
The Stackable wall unit free woodworking plan is actually a series of projects. The first part of the project contains the plans to build the wall unit base, basic cabinet, and the cabinet with doors. The other projects will cover the plans to make a filing cabinet and a neat little desk.
Garage Ball Organizer
The garage ball organizer free woodworking project is a perfect starter project for anyone. It's simple and requires only basic hand tools. For the more advanced woodworker, it's a great project to get rid of those scrap pieces of wood that you have laying around the shop.
More free featured woodworking plans
Free Wood-working Plans
The styling on this outdoor love seat is very unique and it will be a very nice addition to your backyard or patio. Using these easy to read and follow free woodworking plans from Canadian Home Workshop, you will be able to simply and easily build this project in very little time.
|Views: 1503 | Last Viewed: 04/29/2012 10:13am | Site: canadianhomeworkshop.com
This free woodworking plan can be printed out on a single 8 1/2" x 11" sheet of paper. It's a great little beginner project or one that you could do with the kids.
|Views: 839 | Last Viewed: 04/29/2012 7:11am | Site: www.foreststreetdesigns.com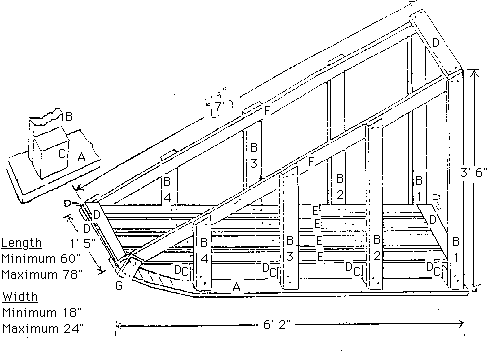 This is a free woodworking plan from a scouting website for a klondike derby sled. It looks easy enough to build. Check it out.
|Views: 466 | Last Viewed: 04/25/2012 2:45am | Site: www.scouters.us
Build this shelter in your back yard or garden to provide shade and comfort during those hot summer months. This free woodworking plan has detailed instructions and diagrams that will make it easy to build.
|Views: 307 | Last Viewed: 04/29/2012 8:51am | Site: www.calredwood.org
Featured Woodworking products
Deluxe Hold Down Clamp
With wider bodies and non-marring rubber caps, these hold-downs have more power and better grip to keep workpieces in place. Runs in T-tracks on drill press tables, router tables, and more.
Free Woodworking Plans and Categories
Search the Internet for Free Woodworking Plans
Other Free Woodworking Info
Free Woodworking Plan Common Search's