Free Woodworking Plans
from Woodworking Plans 4 Free.com
Featured Free Woodworking Plans
Stackable Wall Unit
The Stackable wall unit free woodworking plan is actually a series of projects. The first part of the project contains the plans to build the wall unit base, basic cabinet, and the cabinet with doors. The other projects will cover the plans to make a filing cabinet and a neat little desk.
Garage Ball Organizer
The garage ball organizer free woodworking project is a perfect starter project for anyone. It's simple and requires only basic hand tools. For the more advanced woodworker, it's a great project to get rid of those scrap pieces of wood that you have laying around the shop.
More free featured woodworking plans
Free Wood-working Plans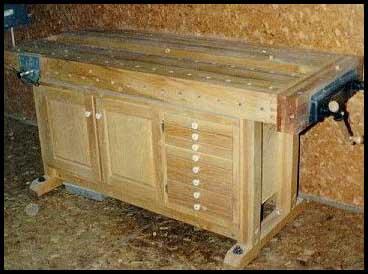 Workbench - Very Nice Woodworking Bench
This free woodworking plan doesn't have any drawings or cut lists, but it sure is a great story. You might even be able to build this bench simple based upon the narative. Nice work. Check this plan out for more pictures of the workbench.
|Views: 1300 | Last Viewed: 04/25/2012 1:24pm | Site: www.woodworking.org
Probably the most used and frequently built shop accessory is the router table. This free woodworking plan is a very simple, very easy and low cost router table plan. The router insert will cost you more than the wood you will use. By the way, don't skimp on the cost of the insert. Buy a good quality and high featured insert. You can even get them with a mechanism that allows you to raise and lower your router from the table top side. Here's a link to one of the super fancy router table inserts. Router Table Insert Click Here
|Views: 251 | Last Viewed: 04/29/2012 3:32am | Site: www.grampasworkshop.net
Combine your electronics and woodworking skills and build this very cool wooden digital clock. All the steps required to build this project are included. PDF's of the wood plans and the electronics are available.
|Views: 0 | Last Viewed: 11/30/1999 12:00am | Site: www.instructables.com
This free woodworking plan contains information for someone looking to create their own turned chess pieces. They give you patterns for the common chess pieces and more importantly, they offer excellent tips for the actually wood turning process.
|Views: 212 | Last Viewed: 04/27/2012 10:18am | Site: www.shopsmithhandson.com
Featured Woodworking products
Deluxe Hold Down Clamp
With wider bodies and non-marring rubber caps, these hold-downs have more power and better grip to keep workpieces in place. Runs in T-tracks on drill press tables, router tables, and more.
Free Woodworking Plans and Categories
Search the Internet for Free Woodworking Plans
Other Free Woodworking Info
Free Woodworking Plan Common Search's