Free Woodworking Plans
from Woodworking Plans 4 Free.com
Featured Free Woodworking Plans
Stackable Wall Unit
The Stackable wall unit free woodworking plan is actually a series of projects. The first part of the project contains the plans to build the wall unit base, basic cabinet, and the cabinet with doors. The other projects will cover the plans to make a filing cabinet and a neat little desk.
Garage Ball Organizer
The garage ball organizer free woodworking project is a perfect starter project for anyone. It's simple and requires only basic hand tools. For the more advanced woodworker, it's a great project to get rid of those scrap pieces of wood that you have laying around the shop.
More free featured woodworking plans
Free Wood-working Plans
Turn your disorganized sanding supplies into a woodworkers dream. This free woodworking plan will help you organize your shop.
|Views: 1043 | Last Viewed: 04/23/2012 3:29pm | Site: lumberjocks.com
This is probably one of the best free woodworking plans out there and it's from the "Canadian Home Workshop". It's a large project, but the available plans and build instructions will take you through the project step by step.
|Views: 853 | Last Viewed: 04/25/2012 10:26pm | Site: canadianhomeworkshop.com
A CD cabinet that is large enough to hide 200 of your favorite CD's. This plan has good descriptions and a materials list, but it doesn't have very good drawings. It still think this plan is worth a look and that it is buildable.
|Views: 657 | Last Viewed: 04/23/2012 12:47pm | Site: www.am-wood.com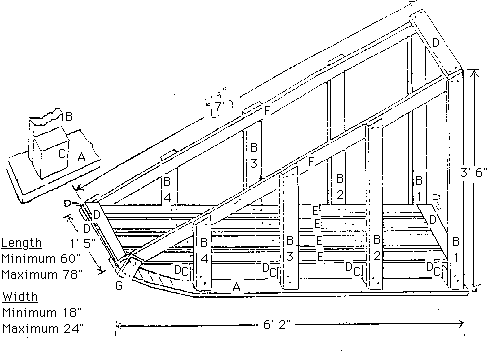 I can't tell you the number of times that I've needed a free woodworking plan for a klondike derby sled. Just last week I was talking to my friend Eric when he told me that he could have used a derby sled to get out of a sticky situation. All joking aside, if you build this plan, please be very careful.
|Views: 347 | Last Viewed: 04/22/2012 12:16am | Site: home.earthlink.net
Featured Woodworking products
Deluxe Hold Down Clamp
With wider bodies and non-marring rubber caps, these hold-downs have more power and better grip to keep workpieces in place. Runs in T-tracks on drill press tables, router tables, and more.
Free Woodworking Plans and Categories
Search the Internet for Free Woodworking Plans
Other Free Woodworking Info
Free Woodworking Plan Common Search's