Free Woodworking Plans
from Woodworking Plans 4 Free.com
Featured Free Woodworking Plans
Stackable Wall Unit
The Stackable wall unit free woodworking plan is actually a series of projects. The first part of the project contains the plans to build the wall unit base, basic cabinet, and the cabinet with doors. The other projects will cover the plans to make a filing cabinet and a neat little desk.
Garage Ball Organizer
The garage ball organizer free woodworking project is a perfect starter project for anyone. It's simple and requires only basic hand tools. For the more advanced woodworker, it's a great project to get rid of those scrap pieces of wood that you have laying around the shop.
More free featured woodworking plans
Free Wood-working Plans
Turn your disorganized sanding supplies into a woodworkers dream. This free woodworking plan will help you organize your shop.
|Views: 1043 | Last Viewed: 04/23/2012 3:29pm | Site: lumberjocks.com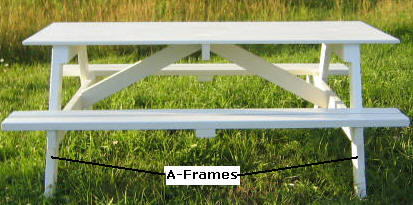 This website does a really great job at showing detailed pictures taken during the construction of this free woodworking plan. I think this type of plan will make it very easy to build one of your own.
|Views: 946 | Last Viewed: 04/25/2012 5:28pm | Site: www.wayneofthewoods.com
The classic all american pull toy has been a staple of the woodworking community. Try this quick afternoon project that even a beginner could build. You might want to drag the kids into this one as well.
|Views: 358 | Last Viewed: 04/22/2012 12:30am | Site: www.grampasworkshop.net
Although the plan is titled cattle sheed and auction barn and it is geared towards a very specific audience, I included it here to give you some more information and ideas if you are planning to build a pole barn. This plan gives excellent detail in poll barn construction.
|Views: 215 | Last Viewed: 04/29/2012 8:41am | Site: www.ag.ndsu.nodak.edu
Featured Woodworking products
Deluxe Hold Down Clamp
With wider bodies and non-marring rubber caps, these hold-downs have more power and better grip to keep workpieces in place. Runs in T-tracks on drill press tables, router tables, and more.
Free Woodworking Plans and Categories
Search the Internet for Free Woodworking Plans
Other Free Woodworking Info
Free Woodworking Plan Common Search's