Free Woodworking Plans
from Woodworking Plans 4 Free.com
Free woodworking plans to build or design your own lead free kid friendly toys. Feel confident that your kids are safe after building one of these free woodworking plans.
22 Free Woodworking Plans found in the "Kids Toys" Category.

---
If you are new to woodworking, this might be the starter project for you. This is a wonderful sandbox plan with provisions for storage. The free woodworking plan has tons of illustrations and detailed directions to help you build this woodworking project.
|Views: 1260 | Last Viewed: 04/15/2018 5:00am | Site: www.calredwood.org
The classic all american pull toy has been a staple of the woodworking community. Try this quick afternoon project that even a beginner could build. You might want to drag the kids into this one as well.
|Views: 1268 | Last Viewed: 04/18/2018 1:44am | Site: www.grampasworkshop.net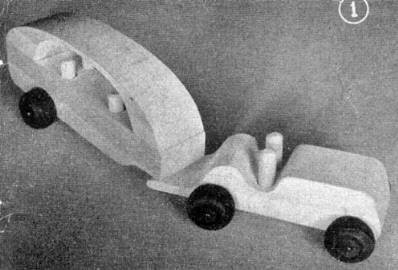 This is a cute little project that you could do with the kids. It's a car with a camper trailer that has a removable top. With this free woodworking plan, I'm sure that you could come up with other similiar woodworking projects.
|Views: 1269 | Last Viewed: 04/15/2018 4:46pm | Site: www.thewoodcrafter.net
I used to love playing with these things as a kid and now I can't wait to build them for my grandkids (when they arrive). This free woodworking plan is simple, but it will bring joy to your kids lives for years. Don't quote me on this, but if they are done right with the proper finish they will last generations.
|Views: 1269 | Last Viewed: 04/15/2018 4:47pm | Site: www.shopsmithhandson.com
The real "secret" to a long-spinning top is symmetry -- if it isn't balanced, it won't spin for long! Never mind all of the geometric formulas -- if you drill the hole for the spindle in the EXACT center of the top body, it will spin for a long, long time.
|Views: 1269 | Last Viewed: 04/15/2018 4:38pm | Site: www.shopsmithhandson.com
Here's another free woodworking plan from Shopsmith HANDS-ON. They always have great plans for all skill levels. This one is for the classic kids game called pecking chickens. Just pull the cord and watch them move.
|Views: 1270 | Last Viewed: 04/15/2018 4:46pm | Site: www.shopsmithhandson.com
---
Free Woodworking Plan Categories
Free Woodworking Plan Categories
Search the Internet for Free Woodworking Plans
Other Free Woodworking Info
Free Woodworking Plan Common Search's